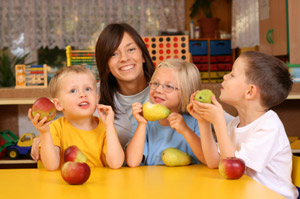 Mowbray Place Early Learning Centre has a strong commitment to supporting the health and wellbeing of children in our care.
All meals, including morning and afternoon teas and a hot lunch are provided daily. All of our meals are prepared and cooked on the premises by a trained cook. Our menu provides a wide range of suitable foods including recommended amounts from the five food groups. All Food Safety regulations are strictly followed. We pay particular attention to the dietary needs of individual children and age groups.
Meal times are treated as social occasions to support positive, healthy attitudes and enjoyment of food and to reflect the cultural backgrounds of children and their families, staff and the wider community.